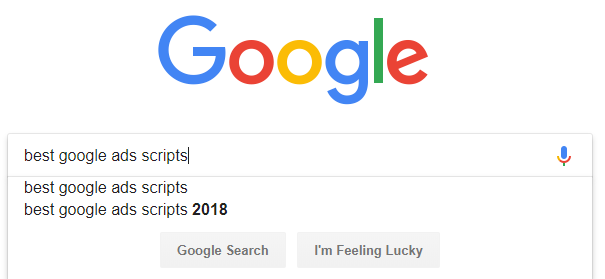 With TONs of scripts out there where do you even begin !?! 
Let me spare you the pain of endlessly searching for, installing and testing all these new scripts that came out in 2018. Here's a list with my favorites.
Oh, and i will share my all-time list of 200+ Google Ads Scripts as well.
If you're like me you're always looking for new opportunities to spend less time managing your accounts while still improving their results. Scripts can definitely be of great help with that!
The problem is: where do you find the Best Google Ads Scripts to begin with in the first place?
Before you know it you've wasted your whole afternoon Googling like a rabbit on speed, searching for the latest, greatest, newest, superpower-providing pieces of code.
Search no more.
I've curated all the Google Ads Scripts i could find in 2018 and came up with this list of the best ones that are ready for you to use.
I love scripts that are publicly available, open source and free to use.
My favorite scripts enable me to do things that are practically impossible without automation, simply because there is no way to do it manually or it would take beyond forever to complete the task.
The best ones are easy to install, easy to configure and easy to run. You don't need any scripting knowledge whatsoever to get started.
NB: If you're new to scripts, don't know any javascript, or are afraid to use them…don't worry! You don't need to know any coding, using these scripts is perfectly safe, and installing them in your accounts feels like a breeze.
Just follow these steps to install and run any Google Ads Script.
Here's the list:
5 – Exclude Mobile App ad placements that perform poorly
Starting in September 2018 Google yanked advertisers' option to exclude all mobile apps from display campaigns.  Google will no longer allow advertisers to bulk exclude their ads from appearing on mobile apps using the formerly used tactic: adding "googleadsenseformobileapps.com" as a negative target.
That's definitely a HUGE potential performance sink for your GDN campaigns.  Our longtime script hero Frederick Vallaeys was sort of thinking the same when writing this script to automatically limit ads from showing on poorly performing mobile apps. Thank you Fred!
4 – Automatically check new 'Google Ad Grants' program policy requirements.
In the beginning of 2018, Google made some important changes to it's 'Google Ad Grants' program policy. These changes require you to check all of your Ad Grants accounts to make sure they meet the new requirements. Tedious repetitive work that can take ages and will make your hair fall out. Luckily, many of these checks can be automated, so the peepz at Suisseo decided we should automate most of these checks. So, if you're managing Google Ad Grants accounts, don't take the risk of being punished by big G and check out their Google Ad Grants script.
3 – Compare negative keywords to queries (search terms) that have converted.
Google published a script for finding negative keywords that conflict with positive keywords. It's a great script with a ton of value. But as we all know, negative keywords match to user queries, not keywords. And so a Negative Keyword might not conflict with a positive keyword in your campaign, but still prevent your ads from showing on converting user queries. For example:
You might sell polo shirts, but not be offering red polos. (Why would you wanna buy a bloody red one anyway!?!)
POSITIVE KEYWORD: +blue +polo
CAMPAIGN LEVEL NEGATIVE KEYWORD: -red
CONVERTING USER QUERY: "cheap red or blue polo"
It's easy to accidentally block these converting queries with a poorly chosen negative keyword.
Solution: Use a script to automatically compare negative keywords to queries (search terms) that have converted in the past. If a (new) negative keyword might block future conversions, it's added to a spreadsheet and emailed to you as a report. Here's the script to Detect Negatives Blocking Converting Queries.
2 – Cancel out Google's new Exact Match Close Variants
As we all know, and to much of our frustration, Google has further broadened the meaning of 'exact match' keywords.
Through "improvements" in its machine learning algorithms, Google claims it can now better classify the intent of a query. Yeah, right. We all know better. On Twitter, #ppcchat peepz all flipped the F out on Google for limiting our ability to actively manage the accounts. The first and second close variants expansions already showed some pretty horrible search terms in our reports. Fear is this will only increase with the latest expansion.
Left unmanaged you can expect the CPA or ROAS performance of your Exact Match keywords to take a serious hit. For some keywords it will be like Mike Tyson hitting them with a straight uppercut. Yep that hard.
That's why Search Engine Land decided to publish an article on 4 ways Google Ads Scripts can help restore control for some advertisers.
And here's my own personal variation of this idea:
In order to determine how big of a suck this change to Exact Match really is, i decided to write a script to monitor Close Variants and send you alerts if Google goes haywire. I've been running this script on some of my clients' accounts for a while now and have seen some terrifying results. I highly recommend checking yours.
1 – In-market Audiences Bidding
And here's my personal winner for the Best Google Ads Script of 2018 award: Brainlab's In-market Audiences Bidding.
About 6 months ago, Google introduced In-market audiences for Search. In-market audiences are audiences that Google thinks are in the market for a certain product, based on intent signals from their browsing history. They're closer to making a purchasing decision, and are are probably more likely to convert than your average user.
Easy to set up as well. Just add a couple in-market audiences to your campaign with a 0% bid modifier, collect data on how they perform, and then bid up or down on them. Problem is: bidding up and down is a tedious never-ending cycle of horrible manual labour.
That's why the guys over at the famous Brainlabs Digital decided to create a script that automatically applies bid modifiers to in-market audiences based on their performance.
The script looks at your campaigns' CPC over a given time range and sets bid modifiers to each of the campaign-level in-market audiences based on performance.
So here you have it. With these scripts in your pocket, you will be able to save countless hours and skyrocket your Google Ads accounts in 2019!
Don't put this opportunity off until later (meaning…never) and install at least one of these scripts right now! 
Follow these steps to install and run any Google Ads Script and you will be up and running in no time.
PS: This list is part of my Ultimate List of over 250 Google Ads Scrips. If you want to play around with some more scripts, let me know:
Also, i'll be watching all the new scripts that will be released in 2019. Stay tuned on the latest and the greatest by subscribing to my newsletter below.
Please follow and like us: